Sasha Mikhailov is a 13-year-old IPSC junior athlete and a member of UKPSA who competes at the highest level in such disciplines as IPSC Handgun and Action Air. Sasha is the IPSC Youth Ambassador for the UTS Youth Festival 2020.
Sasha's career highlights in individual events include winning silver medal in the super junior production at the 2019 IPSC European Handgun Championship in Belgrade, Serbia, and now he is preparing for the World Shoot.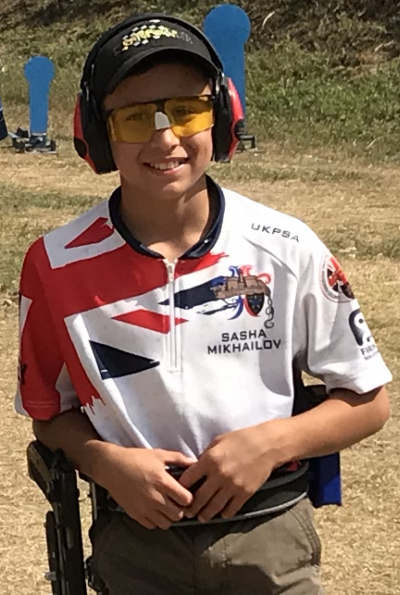 How did you first hear about IPSC?
My dad took me to the shooting camp in Finland organized by Vitaly Kryuchin. It was my first time when I saw Practical Shooting, and I fell in love with it.
For how long have you been shooting?
I have been shooting for 3 years since I started in Finland. Then I joined UKPSA in 2018, and now this is my sport.
What is the coolest about IPSC shooting?
It is definitely having fun, meeting new people and competing to the best of my ability while having the excitement of shooting the stages that are always new.
What do your friends and family think about you shooting IPSC?
My friends and family think that it is very cool to shoot and they are proud that I am progressing well. They also think that shooting IPSC helps to raise my skills such as discipline, concentration, agility, confidence and others.
What are the biggest challenges you have when shooting IPSC?
My biggest challenge when shooting IPSC is that I cannot practice Handgun anywhere in Great Britain. I must travel to other countries, usually Northern Ireland and Finland. Even the nearest Action Air club is two hours away from me. It is challenging to keep up with other athletes if most of my practice is dry fire.
I love IPSC because it requires speed, accuracy and power.
I would like to make the World a better place by standing United Trough Sports!