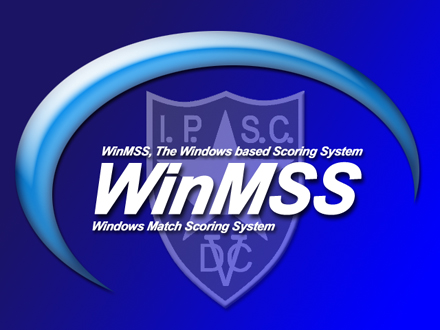 MATCH SCORING SYSTEM (WINMSS)
WinMSS is the official match scoring program for IPSC sanctioned matches.
Latest version: Version 8.3.2.8 (February 2021)
Updated software expiry to March 1, 2022
What's New 
Updated Members import to include Production Optics & Production Optics Light classifications.
Updated Handgun Division reporting sort orders.
Revised gvCompetitor.xls file
Added the "Super Junior" category to all Disciplines.
Added the "Pistol Caliber Carbine" Discipline with the single Division of "Pistol Caliber Carbine".
Added the new "Production Optics Light" Division to the "Handgun" Discipline.
Added the new "Manual Action Lever Release" Division to the "Rifle" Discipline.
Updated "Update Match Competitors from Excel Spreadsheet" to support newest Divisions.
Updated Handgun & Action Air course of fire descriptions.
This release expires on MARCH 1st, 2022. We expire the software to encourage WinMSS end-users to keep their installation current, but you can continue to use the software by changing the computer's clock to a date prior to its expiry.
WinMSS Installation
Download and execute the WinMSS setup package (approximately 10 MB) by clicking on this link:
System Requirements
Microsoft Windows operating system: Windows XP, or newer.
Approximately 40 MB hard disk space
Mouse or other pointing device.
Contact Us
Please feel free to contact us at: zielinski@ipsc.org
with your concerns, comments, and/or issues at any time.