Anastasia Mustonen is a 17-year-old IPSC junior athlete and a member of IPSC Finland who competes at the highest level in such disciplines as IPSC Handgun and Rifle. Anastasia is the IPSC Youth Ambassador for the UTS Youth Festival 2020.
Anastasia's career highlights in individual events include winning gold and silver medals in IPSC National and European Championships, she is five-time gold medalist of Finland and now she is preparing for the World Shoot.
How did you first hear about IPSC?
I found out about IPSC and practical shooting thanks to my dad who is currently shooting and brought me into this sport.
For how long have you been shooting?
I have been practicing shooting since I was 13 years old. I compete with a rifle and a handgun, most of the time with a handgun.
What division do you shoot and why?
My main division in handgun shooting is Production, because there is more competition. Sometimes I shoot Standard in pursuit of competition. In rifle, I compete the Open Division.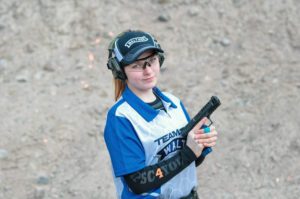 What is the coolest about IPSC shooting?
This sport develops concentration, speed and endurance. Different age categories can participate in it, from juniors to seniors.  Also makes it possible to travel to competitions in different countries, learn their culture and make new acquaintances.
What do your friends and family think about you shooting IPSC?
My friends and family think this is a very interesting and unusual sport and support me in everything.
What are the biggest challenges you have when shooting IPSC?
I have participated in many high level international competitions, in seven handgun Championships in Finland (2nd Lady Production 2016 and four-time 1st Lady Production and two-time 1st Lady Standard 2017-2020).
My latest achievements are:
World Pistol Championship 2017 in France.
Nordic Championship Rifle 2018 in Finland (first Lady Standard).
IPSC Rifle World Championship 2019 in Sweden
European Handgun Championship 2019 in Serbia (2nd place – Finnish Lady Team Standard)
My dream is to become a World Champion and win the Olympic Games!
We stand United Trough Sports!